Enjoy the Great Outdoor Weather with New Residential Decks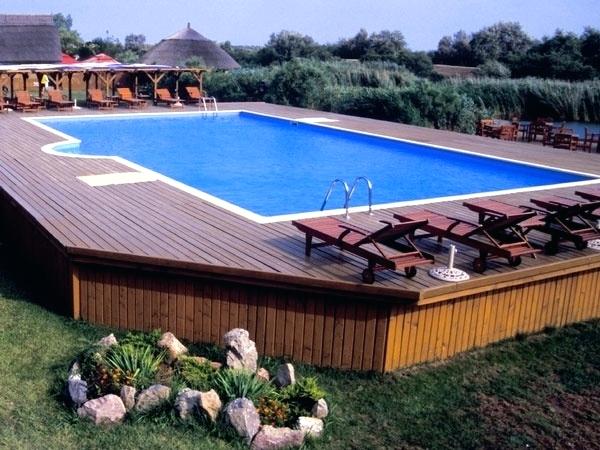 Every home is unique in its own way; the addition of new residential pool decks, or summer deck installation services, can greatly enhance your property. In addition to adding more usable outdoor space, it's also a great way to increase your home's value instantly. Furthermore, you and your family can make the most out of the nice outdoor weather, and enjoy your deck space year-round, outside of your Chapel Hill NC home with these additions to your property.
Add Covers for Year-Round Use-
You don't have to limit the use of your pool decks because cooler weather is fast approaching in Chapel Hill, NC. In fact, with outdoor fire pits, patio covers, and other outdoor heaters/ventilation systems, you can enjoy the outdoors and your outdoor space, year-round. There are numerous additions, repair, or distinct projects we can handle, that will help enhance your property's overall usability, style, and appearance in no time at all. Plus, if you like to be outdoors, regardless of what the weather is like, we can discuss additions of outdoor heating elements, heated flooring, or other features, to help keep your summer deck installation project at the perfect temperature, no matter how cool it gets outside.
Services We Perform
We can do a variety of different projects to your home in Chapel Hill NC. When you're looking to expand the outdoor usable space of your property, some things we might suggest include
Addition of a deck, or pool deck expansion
Installation of heaters, fire pits, and outdoor bbq systems
Repair work to your current deck or outdoor backyard space
Inclusion of pool decks, a backyard deck, or furnishings, so you can utilize the entirety of your property outside of your home
No two homes are alike. And, every home is going to have a different layout and spatial area that can be utilized. Therefore, we're going to discuss your options with you, see how we can layout space, and find the best way to utilize your outdoor area, so we can create a usable area you and your family are going to love, regardless of what time of year it is.
Some homes simply need some repair work to their current deck. We also do repair and maintenance work. So, if this is what you're considering for your Chapel Hill NC home, we can also do these services on your property. There are many ways we can utilize the outdoor area of your home, and recreate the space to ensure you're going to maximize the use, efficiency, and increase the property value of your home, no matter what your budget is for the work you'd like us to perform outside your home.
We're the local pool decks installation team to hire to perform work on your home's outdoor space. Call us today at 984-369-8811 to discuss residential pool deck installation, repair work for your family decks, or other outdoor additions for your Chapel Hill NC home today.